2019-20 VCU Board of Visitors Student Representatives
Samantha Lee (undergraduates)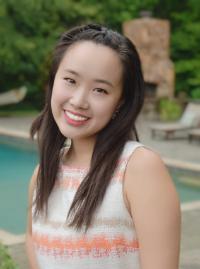 Samantha is a second-year Honors student at VCU, majoring in biology and minoring in chemistry, from McLean, VA. In addition to being a recipient of the United States Congressional Award Gold Medal and the 2018-2019 President's Volunteer Service Award, she is a Dean's List Honoree and received merit scholarships from VCU and VCU Honors College. Samantha serves as the Historian of Delta Epsilon Mu and is a member of VCU Globe. She is also engaged with the Honors College as a Teaching Assistant for Rhetoric (HONR200) and a member of the Wellbeing Team. Over the summer, she combined her passion for travel and learning by studying abroad in Seoul, South Korea. To Samantha, the most meaningful things in life come from working hard and putting in your best effort. She hopes to attend medical school and use her degree to help others anywhere in the world, and to continue her love for painting triptychs with gesso and acrylic.
Samantha would love to voice your opinions! If you are interested in sharing your thoughts on camera, please fill out this form. You can also reach out to her via email at bovstudentrep@vcu.edu.
Michael Berger (graduate/professional)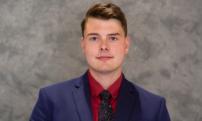 Michael is a 4th-year Biomedical Engineering Ph.D. Candidate in the College of Engineering at VCU. Michael is an alumnus of VCU, graduating magna cum laude in 2016 with a Bachelor's of Science in Biomedical Engineering. As a graduate student Michael uses metal 3D printing to produce personalized implants with complex biomimetic shapes and porosities to address the growing clinical need to improve implant retention rates of orthopaedic and dental implants in patients with compromised bone qualities like osteoporosis. He has authored or co-authored 6 publications and 1 book chapter and presented his research nationally and internationally. Mentorship has been foundational to his success as a graduate student and Michael has passed it forward by mentoring 3 undergraduates and 1 high school student and is currently the coordinator and instructor for the Dean's Undergraduate Research Initiative (DURI), which serves to expose undergraduates to academic research and provides foundational research skills to prepare students for graduate school.
Outside of the lab, Michael is actively involved in the College of Engineering graduate community, serving on the executive board of the Engineering Graduate Student Association (EGSA) all four years of his graduate education. He co-founded the Biomedical Graduate Student Council (BGSC) and is currently serving as the recruitment chair. As the Graduate/Professional Student Representative to the Board of Visitors, Michael hopes to better connect the two diverse campuses that makeup VCU to foster collaborations between campuses and advocate for student resources to ensure student success at both the undergraduate and graduate levels.
Ram Time with Sam
In advance of the BOV meetings, Samantha asks VCU students various questions and then shares those videos with the BOV. Here are the videos from the year.